1902 - 2023 We're proud to celebrate 121 years in print!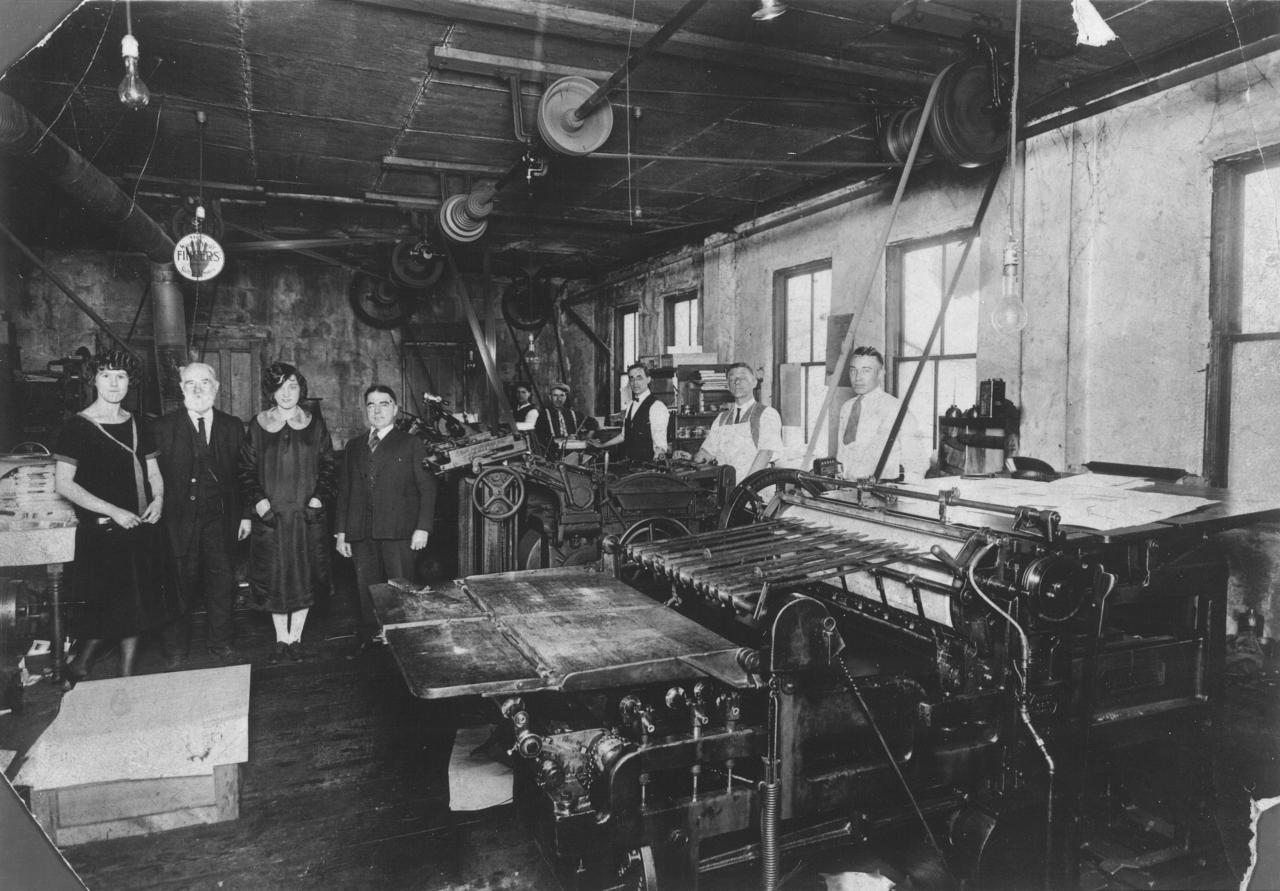 Photo: Cliffe Printing Press Room - 1923, Cliffe Printing Est. 1902.
L; Hannah McDonald, Charles Cliffe (89), Mary Langstaff, Herbert Cliffe.
R (f-b); Mike Devoe, Johnny Durente, Fred Roberts, Walter "Polly" Cliffe, George Benson
CHARLES CLIFFE came to Sault Ste. Marie from British Columbia in 1902. He purchased a weekly newspaper, the Algoma Pioneer, which he converted to a daily paper. The paper closed down six years later, after a fire destroyed the plant located on the west side of Pim Street. After the fire he moved to March Street and then, in 1926, to larger quarters and the firm's present location at 118 Spring Street. Charles Cliffe also edited the Steelton News, and had a china shop and bookstore at 506 Queen Street East. He operated a newspaper until approximately 1930, when his two sons, Herbert and Osborne Cliffe, joined the business and started a commercial printing plant.
After Charles' death in 1931, the two brothers continued their partnership until 1938, when Osborne moved to Chicago to set up his own printing shop. Herb remained with the business until his death in 1974, then his son Charlie took over. Charlie Cliffe, who entered the family business in 1953, sold the company to five employees - Charlie Carpenter, Larry Vincent, Al Marshall, Don Martell and Andy Inch in 1979, with himself remaining principal shareholder.
In 1987, ANDY INCH bought out his partners and became sole owner and president of Cliffe Printing Inc. Andy, with the help of his son Adam, still runs the company to this date.
In 1988-89, Cliffe Printing expanded into the Advertising and Marketing field with the start-up of Advantage Design and Advertising later to be know as Latitude Creative Group. This entailed the hiring of an additional designer and a marketing manager and installation of new computers, programs and imaging devices.
1992 saw the jump into in-house full-colour work and expanded bindery capabilities with the purchase of a 2-colour Heidelberg and automated binder equipment, making Cliffe not only a force in Northern Ontario, but also across Ontario and into the United States.
Early 2000 saw another large step for Cliffe Printing as a brand new four-colour press and imaging device was purchased. These acquisitions now made Cliffe Printing a leader in the printing industry not only in Ontario, but in North America. A market spreading across the United States and Canada, and into Europe.
In June 2001, Cliffe Printing had been located at 118 Spring Street for 75 years and expanded its offices across the street to 117 Spring Street, the former Salvation Army building. Built in 1912, the additional building helped us to continue in the theme of tradition and heritage, and for us, stood for solid practices and values.
In 2012, Cliffe Printing became an Partner with Canada Post. This was especially important to all the printer's Mail Marketing customers as they saved money and time partaking of sales and new services provided through the Expert Partnership. Cliffe's proudly received the United Way Campaign Achievement Awards "Chair's Award of Merit", and a Red Cross Citation for 10 Years Sponsorship of their annual Feast or Famine Campaign that same year. Cliffe Printing was also recognized in media for the 2012 Sault Business in the Century-plus Club, achieving 110 years in business.
Cliffe Printing gratefully accepted the Sault Star Reader's Choice Award in 2015 as the winner of Best Printing Graphics and Sign Shop in Sault Ste. Marie.
In 2016, after considering the advancement in technology, equipment and spacial requirements we combined our offices into our original 1926 location at 118 Spring Street.
We look back and take pride in the accomplishments of the company since 1902. We recognize the unwavering commitment to facilitate the most efficient and modern equipment available to us, and are grateful to fulfill a promise to our valued clients. The promise to offer the absolute best print services at fair prices.
Today, we recognize that 121 years of patronage from our valued clientelle and new customers has brought us here, and we thank you.
Thank you for 121 Years in Print!